Yokogawa YS1700 Controller YS1000 Series Single Loop Controller
Yokogawa YS1700 Controller YS1000 Series Single Loop Controller
2015-06-18 10:30:44
Description:
The YS1700 Programmable Indicating Controller can be tailored for various applications by running a user program, and offers high reliability thanks to Yokogawa's proprietary technology, user friendliness, and expandability.……
Description
| | | | | | |
| --- | --- | --- | --- | --- | --- |
| Place of Origin: | South Korea | Brand Name: | Yokogawa | Model Number: | YS1700 |
| Model: | YS1700 | GENERAL: | YS1700 Programmable Indicating Controller | | |
| | |
| --- | --- |
| Packaging Details: | original package |
| Delivery Detail: | 6-8 weeks |
YOKOGAWA YS1000 Series Single-loop Controllers
YOKOGAWA YS1700 Programmable Indicating Controller
The YS1000 series carries over the superior control performance and reliability of the YS80/YS100 series with a high degree of compatibility, and adds a color LCD and enhanced networking functions to bring you a next-generation single loop controller that's revolutionary in its ease of use.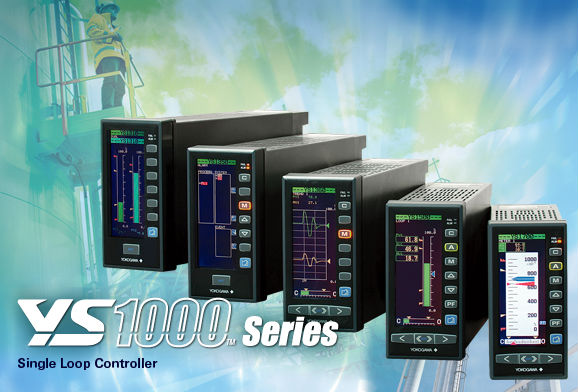 YSS1000 Setting Software

Uses a full dot matrix color LCD display for wide variety of screens.

Designed with a lightweight, compact case for Greater freedom of instrumentation.

Advanced programming tool to reduces engineering costs.

Dual CPU and hard manual control for control output backup.

Ethernet (Modbus TCP), Modbus, expansion I/O, and peer-to-peer communication to offer a highly scalable system.
ModelSuffix CodeOption CodeDescriptionYS1700 Programmable indicating controllerYS1500 Indicating controllerYS1360 Manual setter for MV settingYS1350 Manual setter for SV settingYS1310 Indicator with alarm -0 Always 0Type0 Basic type1 Basic type with expandable I/O (*1)2 Compatible type for YS100 (with YS100 case)3 Compatible type for YS80 internal unit, compatible type for EBS, I, EK and HOMAC (*2)4 Compatible type for YS80 (compatible size for YS80 with YS100 terminals)5 Compatible type for pneumatic 100 Line (with YS100 terminals) (*3)Power supply0 100 V AC and 24 V DC dual power driven1 220 V ACDirect sensor input (*4)/A01mV input/A02Thermocouple input/A03RTD input/A04Potentiometer input/A05Isolator/A06Two-wire transmitter input (isolated)/A07Two-wire transmitter input (non-isolated)/A08Frequency inputCommunication/A31RS-485 communication (PC-link, Modbus, YS protocol, peer-to-peer) (*5)/A32DCS-LCS communication (*6)/A34Ethernet communication (Modbus/TCP) (*7)Explosion-proof/FMFM nonincendive approved (FM Class I, Div 2) (*8)


*1
Applicable to YS1700 only. This option comes with an I/O expansion terminal block (Model YS010) and a 3-meter I/O expansion cable (Model YS011).
*2
Fits into and can be connected to a YS80 housing (Model SHUP). (Model SHUP-410 EK- and HOMAC-compatible housing and Model SHUP-100 EBS and I Series-compatible housing need to be ordered separately.)
*3
A Line-compatible housing (Model 100) needs to be ordered separately.
*4
The direct sensor input option can only be specified with suffix code -02x, -04x, or -05x. Only one input type can be specified.
*5
Cannot be specified with suffix code -03x. Options A31 and A32 cannot be specified at the same time.
*6
Not applicable to Model YS1310. Options A31 and A32 cannot be specified at the same time.
*7
Option A32 can only be specified with suffix code -00x or -01x.
*8
Can only be specified with suffix code -00x or -01x.
ModelSuffix CodeDescriptionYSS1000 Setting Software for YS1000 Series-0Always 00Always 0 (with CD media and proprietary cable)
Pictures: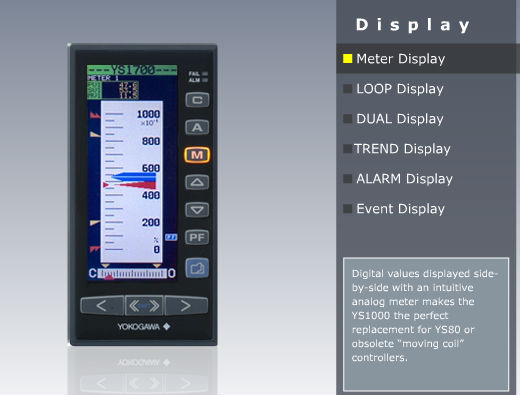 Model and Suffix Codes
Model Suffix Code Optional Code Remarks
YS1700 Programmable indicating controller
Use -1 With hard manual unit
-2 Without hard manual unit
Type
0 Basic type
1 Basic type with expandable I/O (*1)
2 Compatible type for YS100 (with YS100 case)
3 Compatible type for YS80 internal unit/compatible type for EBS, I, EK, and HOMAC (*2)
4 Compatible type for YS80 (compatible size for YS80 with YS100 terminal)
5 Compatible type for 100 line (with YS100 terminal) (*3)
Power supply
0 100 V AC, 24 V DC common power
1 220 V AC power
Direct input (*4)
/A01 mV input
/A02 Thermocouple input
/A03 RTD input
/A04 Potentiometer input
/A05 Isolator
/A06 Two-wire transmitter input (isolated)
/A07 Two-wire transmitter input (non-isolated)
/A08 Frequency input
/DF Direct input with Fahrenheit temperature range function (*9)
Communication
/A31 RS-485 communication (PC-link, Modbus, YS protocol, and Peer-to-Peer communication) (*5)
/A32 DCS-LCS communication (*6)
/A34 Ethernet communication (Modbus/TCP) (*7)
Certification /FM FM nonincendive approved (FM Class I, DIV 2) (*8) (To be approved)
/CSA CSA safety and nonincendive approved (Class I, DIV 2) (*10) (To be approved)
*1 The expandable I/O terminal (model YS010) and expandable I/O cable (model YS011) (cable length: 3 m) are provided.
*2 This type can be connected to the YS80 housing (model SHUP). (The EK/HOMAC compatible housing (SHUP-420) and EBS/I series-compatible housing
(SHUP-100) are sold separately.)
*3 The 100 line-compatible housing (model YS006) is sold separately.
*4 Direct input options can be combined only with the suffix codes "-x2x," "-x4x," or "-x5x." Selection of multiple options is not possible.
*5 A combination with suffix code "-x3x" is not possible. Optional codes /A31 and /A32 cannot be simultaneously specified.
Please specify the communication options /A31 (RS-485 communication) to directly communicate with the CENTUM CS3000/VP.
*6 Optional codes /A31 and /A32 cannot be simultaneously specified. Please specify the communication options /A32 (DCS-LCS communication) to communicate
with the CENTUM CS3000/VP through the SCIU.
*7 Optional codes /A34 can be specified only for suffix codes "-x0x" or "-x1x."
*8 This option can be combined only with suffix codes "-x0x" or "-x1x."
*9 This option can be combined only with option code /A02 or /A03.If option code /DF is specified, Fahrenheit temperature range can be available for direct
input range in addition to Centigrade temperature range. In case of specifying Fahrenheit temperature range for direct input, option code /DF is required.
When the direct input temperature range may be changed to Fahrenheit temperature range after shipment, also specify option code /DF.
*10 This option can be combined only with suffix codes "-x0x," "-x1x," "-x2x."