Sales Emerson SP5401 Control Techniques AC Drives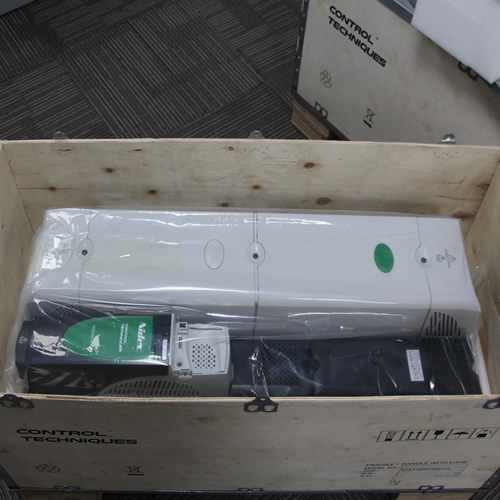 Emerson SP5401 - Control Techniques AC Drives - Unidrive SP without Keypad, 460Vac, Max Cont Output Current (hp): Normal Duty -138A (100hp), Heavy Duty -124A (100hp).
Control Techniques' Unidrive SP Panel Mount are standard AC input, AC output drives for installation within a control panel. The drives are easy to install and commission and can be applied in a wide range of applications including as an Open loop V/Hz AC Drive, an Open loop Vector AC Drive or even an Open Loop Rotor Flux Control (RFC). The Unidrive SP truly boasts a vast range of system integration features.
Control Techniques, Nidec Variable Frequency AC Drive / Servo Drive
Unidrive SP Series Information
● Universal AC Drive
● Open/Closed Loop & Servo
● 1 to 1000hp
● 200V - 690V, 3-Phase
● NEMA 4X (IP66)
Nidec Unidrive SP Series
SP0201
SP0202
SP0203
SP0204
SP0205
SP0201
SP0202
SP0203
SP0204
SP0205
SP1201
SP1202
SP1203
SP1204
SP2201
SP2202
SP2203
SP3201
SP3202
SP4201
SP4202
SP4203
SP5201
SP5202
SP0401
SP0402
SP0403
SP0404
SP0405
SP1401
SP1402
SP1403
SP1404
SP1405
SP1406
SP2401
SP2402
SP2403
SP2404
SP3401
SP3402
SP3403
SP4401
SP4402
SP4403
SP5401
SP5402
SP6401
SP6402
ES2401
ES2402
ES2403
---

If you have any questions, please contact online or email to info@hkxytech.com Contact our sales manager by email.
Click here to see more products →
Other news