Sales Schneider PBXA12YY pendant control station PBX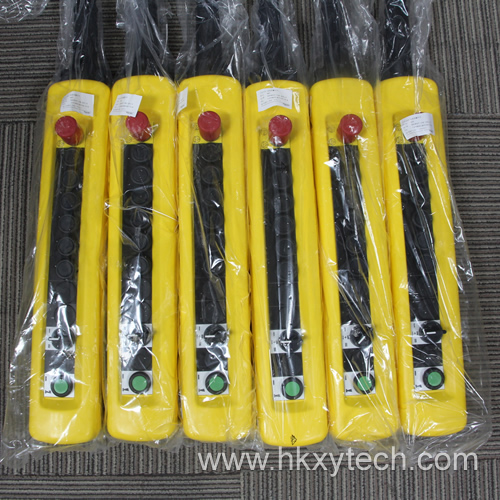 Schneider PBXA12YY pendant control station PBX, 12 holes, color yellow. Pendant control stations for auxiliary circuits, equipped with 2 to 12 Ø 22 mm buttons.
Schneider Control Stations and Enclosures - Harmony XAC
Designed for mechanical handling, these highly robust pendant control stations comply with the safety requirements of IEC standards. They are not only simple and intuitive, but also very comfortable for the operator to use.
Functions: 1 or 2 speed up, down, right, and left movements; emergency stop option available
Schneider pendant control stations - Harmony XAC models:
XACA201
XACA2013
XACA2013TQ
XACA2014
XACA2033
XACA205
XACA2053
XACA2054
XACA207
XACA2073
XACA2073TQ
XACA2074
XACA211
XACA2113
XACA2114
XACA2134
XACA215
XACA2153
XACA2154
XACA217
...
---
If you have any questions, please contact online or email to info@hkxytech.com Contact our sales manager by email.
Click here to see more products →
Other news