Model AV550G Zirconia Oxygen Analyzer Averaging Converter
Model AV550G Zirconia Oxygen Analyzer Averaging Converter
2016-05-29 23:26:00
Description:
Multi Channel Zirconia Oxygen Analyzer - AV550G The O2mation, model AV550, averaging oxygen analyzer was designed with a focus on practical performance. Yokogawa has refined our expertise in the combustion oxygen business into this new and creative product. It is packed with features designed to minimize plant down time and technical support for the oxygen measurement. A multiple point oxygen measurement system may be required for situations when gas stratification in the flue duct affects combustion control. The AV550G averaging analyzer is ideal for combustion control in large utility boilers or various industrial furnaces. Can accept inputs from up to eight ZR22 detectors Sends both individual and averaged sensor outputs Multipoint analyzer reduces installation and maintenance costs Large 5.7-inch color LCD display shows various measurement, setup, calibration, and trend screens Intuitive touchscreen is easy to read and simplifies setup and maintenance Individual channel cards can be "hot swapped" 4-20 mA standard outputs with HART or Foundation Fieldbus……
Description
Model AV550G Zirconia Oxygen Analyzer Averaging Converter
The EXAxt Series AV550G Zirconia Oxygen Analyzer Averaging Converter is designed for oxygen
measurement at multiple points in flue ducts of industrial furnaces and can be used to optimize the
combustion process. For the AV550G system, various types of EXAxt ZR Series detectors as well as
optional accessories are available. The best measurement can be achieved by selecting instruments
appropriate to your application.
average-value are not insulated.
Independent Output; Output to each channel
Common isolation / Individual isolation selectable.
(Note) Used exclusively for communication when suffix code " -F" (FOUNDATION Fieldbus communication) is
selected.
Digital Communication: FOUNDATION Fieldbus
HART; 250 to 550 Ω, depending on number of field devices connected to the
loop (multi-drop mode).
(Note) HART is a registered trademark of the HART Communication Foundation.
Contact Output: Contact capacity 30V DC 3A, 250V AC 3A (resistive load)
Normally open / normally closed selectable
Common Contact Output; 5 points, Four of the output points can be selected to either normally
energized or normally deenergized status.
Contact output 5 is normally energized.
Contact Output for Individual Channel Fail; Output to each channel, Normally energized.
Solenoid Valve Contact Output: Contact capacity 30V DC 1A, 250V AC 1A, voltage free contacts,
DC 24V power supply (option). Maximam DC 300 mA
Contact Input: 2 points, voltage free contacts
Ambient Temperature: -5 to +50°C
Storage Temperature: -20 to +70°C
Humidity Range: 10 to 85%RH (non-condensing)
Installation Altitude: 2000 m or less
Category based on IEC 61010: II (Note)
Pollution degree based on IEC 61010:2 (Note)
Note: Installation category, called over-voltage category, specifies impulse withstand voltage. Category II is for electrical
equipment.
Pollution degree indicates the degree of existence of solid, liquid, gas or other inclusions which may reduce dielectric
strength. Degree 2 is the normal indoor environment.
Power Supply Voltage: Ratings; 100 / 115 V AC, 230 V AC
Acceptable range; 85 to 126.5 V AC, 195.5 to 253 V AC
Power Supply Frequency: Rating; 50/60 Hz
Acceptable range; 50 Hz±5%, 60 Hz±5%
Power Consumption: Max. 40 W + (120 W)×(Number of detectors) for steady operation (100 V type)
Max. 40 W + (220 W)×(Number of detectors) for warm-up (100 V type)
Max. 40 W + (140 W)×(Number of detectors) for steady operation (200 V type)
Max. 40 W + (220 W)×(Number of detectors) for warm-up (200 V type)
Safety and EMC conforming standards
Safety: Conforms to EN 61010-1, CAN/CSA-C22.2 No. 61010.1 certified,
UL Std. No. 61010-1 certified
EMC: Conforms to EN 61326-1 Class A, Table 2 *,
EN 61326-2-3, EN 61000-3-2, EN 61000-3-3
* : Influence of immunity environment (Criteria A ) : ±12.5% of F. S.
CE (Only HART communication type)
EMC Regulatory Arrangement in Australia and New Zealand (RCM)
EN61326-1 Class A
Korea Electromagnetic Conformity Standard Class A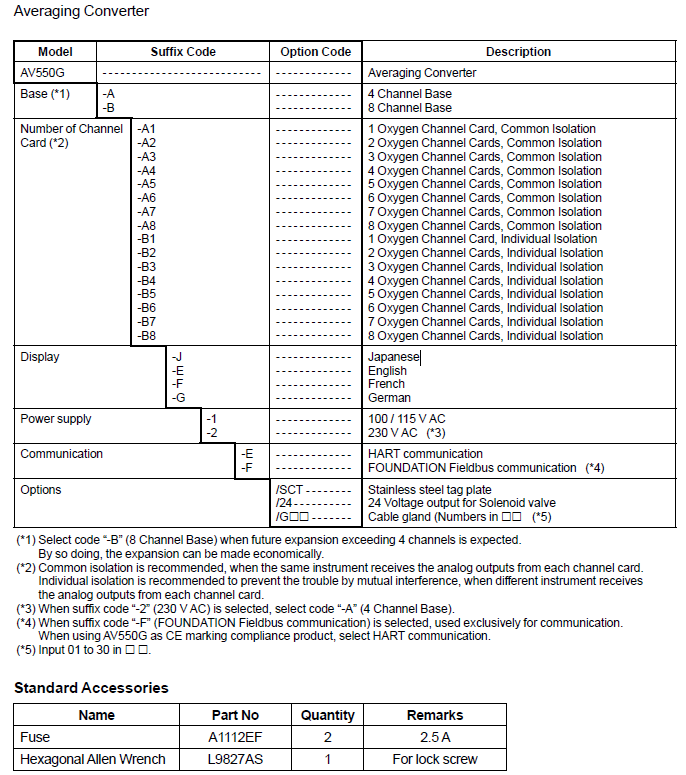 Related Products:
AV55CM Channel Card
A1112EF Fuse
L9827AS Hexagonal Allen Wrench
ZR22G General-purpose detector
ZR22G High temperature detector (0.15m)
AV550G Averaging Converter
ZO21R Probe protector
ZO21P High temperature probe adapter
ZA8F Flow setting unit (for manual calibration use)
Auxiliary ejector assembly for high temperature use (Part No. E7046EC, E7046EN)
Calibration gas unit case (Part No. E7044KF)
Check valve (Part No. K9292DN, K9292DS)
Dust filter for the detector (Part No. K9471UA)
Dust guard protector (Part No. K9471UC)
AV550G Model AV550G Zirconia Oxygen Analyzer Averaging Converter
AV550G-x-xx-x-x-E Model EXAxt AV550G HART Protocol
AV550G-x-xx-x-x-F Model EXAxt AV550G Fieldbus Communication Type
ZR22G Model ZR22G, ZR402G Zirconia Oxygen/Humidity Analyzer
ZR22S Model ZR22S, ZR402G Separate type Explosion-proof Zirconia Oxygen Analyzer
ZO21DW In-Site Type Zirconia Oxygen Analyzer Model ZO21DW Detector
Models:
AV550G-A-A1-E-1-E,AV550G-A-A1-E-1-E/SCT,AV550G-A-A1-E-1-E/24,AV550G-A-A1-E-1-E/G01,AV550G-A-A1-E-1-E/SCT/24,AV550G-A-A1-E-1-E/SCT/24/G01,AV550G-A-A1-E-1-E/24/G01,AV550G-A-A1-E-1-E/SCT/G01
AV550G-B-A1-E-1-E,AV550G-B-A1-E-1-E/SCT,AV550G-B-A1-E-1-E/24,AV550G-B-A1-E-1-E/G01,AV550G-B-A1-E-1-E/SCT/24,AV550G-B-A1-E-1-E/SCT/24/G01,AV550G-B-A1-E-1-E/24/G01,AV550G-B-A1-E-1-E/SCT/G01
AV550G-A-A2-E-1-E,AV550G-A-A2-E-1-E/SCT,AV550G-A-A2-E-1-E/24,AV550G-A-A2-E-1-E/G01,AV550G-A-A2-E-1-E/SCT/24,AV550G-A-A2-E-1-E/SCT/24/G01,AV550G-A-A2-E-1-E/24/G01,AV550G-A-A2-E-1-E/SCT/G01
AV550G-B-A2-E-1-E,AV550G-B-A2-E-1-E/SCT,AV550G-B-A2-E-1-E/24,AV550G-B-A2-E-1-E/G01,AV550G-B-A2-E-1-E/SCT/24,AV550G-B-A2-E-1-E/SCT/24/G01,AV550G-B-A2-E-1-E/24/G01,AV550G-B-A2-E-1-E/SCT/G01
AV550G-A-A3-E-1-E,AV550G-A-A3-E-1-E/SCT,AV550G-A-A3-E-1-E/24,AV550G-A-A3-E-1-E/G01,AV550G-A-A3-E-1-E/SCT/24,AV550G-A-A3-E-1-E/SCT/24/G01,AV550G-A-A3-E-1-E/24/G01,AV550G-A-A3-E-1-E/SCT/G01
AV550G-B-A3-E-1-E,AV550G-B-A3-E-1-E/SCT,AV550G-B-A3-E-1-E/24,AV550G-B-A3-E-1-E/G01,AV550G-B-A3-E-1-E/SCT/24,AV550G-B-A3-E-1-E/SCT/24/G01,AV550G-B-A3-E-1-E/24/G01,AV550G-B-A3-E-1-E/SCT/G01
AV550G-A-A4-E-1-E,AV550G-A-A4-E-1-E/SCT,AV550G-A-A4-E-1-E/24,AV550G-A-A4-E-1-E/G01,AV550G-A-A4-E-1-E/SCT/24,AV550G-A-A4-E-1-E/SCT/24/G01,AV550G-A-A4-E-1-E/24/G01,AV550G-A-A4-E-1-E/SCT/G01
AV550G-B-A4-E-1-E,AV550G-B-A4-E-1-E/SCT,AV550G-B-A4-E-1-E/24,AV550G-B-A4-E-1-E/G01,AV550G-B-A4-E-1-E/SCT/24,AV550G-B-A4-E-1-E/SCT/24/G01,AV550G-B-A4-E-1-E/24/G01,AV550G-B-A4-E-1-E/SCT/G01
AV550G-A-A5-E-1-E,AV550G-A-A5-E-1-E/SCT,AV550G-A-A5-E-1-E/24,AV550G-A-A5-E-1-E/G01,AV550G-A-A5-E-1-E/SCT/24,AV550G-A-A5-E-1-E/SCT/24/G01,AV550G-A-A5-E-1-E/24/G01,AV550G-A-A5-E-1-E/SCT/G01
AV550G-B-A5-E-1-E,AV550G-B-A5-E-1-E/SCT,AV550G-B-A5-E-1-E/24,AV550G-B-A5-E-1-E/G01,AV550G-B-A5-E-1-E/SCT/24,AV550G-B-A5-E-1-E/SCT/24/G01,AV550G-B-A5-E-1-E/24/G01,AV550G-B-A5-E-1-E/SCT/G01
AV550G-A-A6-E-1-E,AV550G-A-A6-E-1-E/SCT,AV550G-A-A6-E-1-E/24,AV550G-A-A6-E-1-E/G01,AV550G-A-A6-E-1-E/SCT/24,AV550G-A-A6-E-1-E/SCT/24/G01,AV550G-A-A6-E-1-E/24/G01,AV550G-A-A6-E-1-E/SCT/G01
AV550G-B-A6-E-1-E,AV550G-B-A6-E-1-E/SCT,AV550G-B-A6-E-1-E/24,AV550G-B-A6-E-1-E/G01,AV550G-B-A6-E-1-E/SCT/24,AV550G-B-A6-E-1-E/SCT/24/G01,AV550G-B-A6-E-1-E/24/G01,AV550G-B-A6-E-1-E/SCT/G01
AV550G-A-A7-E-1-E,AV550G-A-A7-E-1-E/SCT,AV550G-A-A7-E-1-E/24,AV550G-A-A7-E-1-E/G01,AV550G-A-A7-E-1-E/SCT/24,AV550G-A-A7-E-1-E/SCT/24/G01,AV550G-A-A7-E-1-E/24/G01,AV550G-A-A7-E-1-E/SCT/G01
AV550G-B-A7-E-1-E,AV550G-B-A7-E-1-E/SCT,AV550G-B-A7-E-1-E/24,AV550G-B-A7-E-1-E/G01,AV550G-B-A7-E-1-E/SCT/24,AV550G-B-A7-E-1-E/SCT/24/G01,AV550G-B-A7-E-1-E/24/G01,AV550G-B-A7-E-1-E/SCT/G01
AV550G-A-A8-E-1-E,AV550G-A-A8-E-1-E/SCT,AV550G-A-A8-E-1-E/24,AV550G-A-A8-E-1-E/G01,AV550G-A-A8-E-1-E/SCT/24,AV550G-A-A8-E-1-E/SCT/24/G01,AV550G-A-A8-E-1-E/24/G01,AV550G-A-A8-E-1-E/SCT/G01
AV550G-B-A8-E-1-E,AV550G-B-A8-E-1-E/SCT,AV550G-B-A8-E-1-E/24,AV550G-B-A8-E-1-E/G01,AV550G-B-A8-E-1-E/SCT/24,AV550G-B-A8-E-1-E/SCT/24/G01,AV550G-B-A8-E-1-E/24/G01,AV550G-B-A8-E-1-E/SCT/G01
AV550G-A-B1-E-1-E,AV550G-A-B1-E-1-E/SCT,AV550G-A-B1-E-1-E/24,AV550G-A-B1-E-1-E/G01,AV550G-A-B1-E-1-E/SCT/24,AV550G-A-B1-E-1-E/SCT/24/G01,AV550G-A-B1-E-1-E/24/G01,AV550G-A-B1-E-1-E/SCT/G01
AV550G-B-B1-E-1-E,AV550G-B-B1-E-1-E/SCT,AV550G-B-B1-E-1-E/24,AV550G-B-B1-E-1-E/G01,AV550G-B-B1-E-1-E/SCT/24,AV550G-B-B1-E-1-E/SCT/24/G01,AV550G-B-B1-E-1-E/24/G01,AV550G-B-B1-E-1-E/SCT/G01
AV550G-A-A1-E-1-F,AV550G-A-A1-E-1-F/SCT,AV550G-A-A1-E-1-F/24,AV550G-A-A1-E-1-F/G01,AV550G-A-A1-E-1-F/SCT/24,AV550G-A-A1-E-1-F/SCT/24/G01,AV550G-A-A1-E-1-F/24/G01,AV550G-A-A1-E-1-F/SCT/G01
AV550G-B-A1-E-1-F,AV550G-B-A1-E-1-F/SCT,AV550G-B-A1-E-1-F/24,AV550G-B-A1-E-1-F/G01,AV550G-B-A1-E-1-F/SCT/24,AV550G-B-A1-E-1-F/SCT/24/G01,AV550G-B-A1-E-1-F/24/G01,AV550G-B-A1-E-1-F/SCT/G01
AV550G-A-A2-E-1-F,AV550G-A-A2-E-1-F/SCT,AV550G-A-A2-E-1-F/24,AV550G-A-A2-E-1-F/G01,AV550G-A-A2-E-1-F/SCT/24,AV550G-A-A2-E-1-F/SCT/24/G01,AV550G-A-A2-E-1-F/24/G01,AV550G-A-A2-E-1-F/SCT/G01
AV550G-B-A2-E-1-F,AV550G-B-A2-E-1-F/SCT,AV550G-B-A2-E-1-F/24,AV550G-B-A2-E-1-F/G01,AV550G-B-A2-E-1-F/SCT/24,AV550G-B-A2-E-1-F/SCT/24/G01,AV550G-B-A2-E-1-F/24/G01,AV550G-B-A2-E-1-F/SCT/G01
AV550G-A-A3-E-1-F,AV550G-A-A3-E-1-F/SCT,AV550G-A-A3-E-1-F/24,AV550G-A-A3-E-1-F/G01,AV550G-A-A3-E-1-F/SCT/24,AV550G-A-A3-E-1-F/SCT/24/G01,AV550G-A-A3-E-1-F/24/G01,AV550G-A-A3-E-1-F/SCT/G01
AV550G-B-A3-E-1-F,AV550G-B-A3-E-1-F/SCT,AV550G-B-A3-E-1-F/24,AV550G-B-A3-E-1-F/G01,AV550G-B-A3-E-1-F/SCT/24,AV550G-B-A3-E-1-F/SCT/24/G01,AV550G-B-A3-E-1-F/24/G01,AV550G-B-A3-E-1-F/SCT/G01
AV550G-A-A4-E-1-F,AV550G-A-A4-E-1-F/SCT,AV550G-A-A4-E-1-F/24,AV550G-A-A4-E-1-F/G01,AV550G-A-A4-E-1-F/SCT/24,AV550G-A-A4-E-1-F/SCT/24/G01,AV550G-A-A4-E-1-F/24/G01,AV550G-A-A4-E-1-F/SCT/G01
AV550G-B-A4-E-1-F,AV550G-B-A4-E-1-F/SCT,AV550G-B-A4-E-1-F/24,AV550G-B-A4-E-1-F/G01,AV550G-B-A4-E-1-F/SCT/24,AV550G-B-A4-E-1-F/SCT/24/G01,AV550G-B-A4-E-1-F/24/G01,AV550G-B-A4-E-1-F/SCT/G01
AV550G-A-A5-E-1-F,AV550G-A-A5-E-1-F/SCT,AV550G-A-A5-E-1-F/24,AV550G-A-A5-E-1-F/G01,AV550G-A-A5-E-1-F/SCT/24,AV550G-A-A5-E-1-F/SCT/24/G01,AV550G-A-A5-E-1-F/24/G01,AV550G-A-A5-E-1-F/SCT/G01
AV550G-B-A5-E-1-F,AV550G-B-A5-E-1-F/SCT,AV550G-B-A5-E-1-F/24,AV550G-B-A5-E-1-F/G01,AV550G-B-A5-E-1-F/SCT/24,AV550G-B-A5-E-1-F/SCT/24/G01,AV550G-B-A5-E-1-F/24/G01,AV550G-B-A5-E-1-F/SCT/G01
AV550G-A-A6-E-1-F,AV550G-A-A6-E-1-F/SCT,AV550G-A-A6-E-1-F/24,AV550G-A-A6-E-1-F/G01,AV550G-A-A6-E-1-F/SCT/24,AV550G-A-A6-E-1-F/SCT/24/G01,AV550G-A-A6-E-1-F/24/G01,AV550G-A-A6-E-1-F/SCT/G01
AV550G-B-A6-E-1-F,AV550G-B-A6-E-1-F/SCT,AV550G-B-A6-E-1-F/24,AV550G-B-A6-E-1-F/G01,AV550G-B-A6-E-1-F/SCT/24,AV550G-B-A6-E-1-F/SCT/24/G01,AV550G-B-A6-E-1-F/24/G01,AV550G-B-A6-E-1-F/SCT/G01
AV550G-A-A7-E-1-F,AV550G-A-A7-E-1-F/SCT,AV550G-A-A7-E-1-F/24,AV550G-A-A7-E-1-F/G01,AV550G-A-A7-E-1-F/SCT/24,AV550G-A-A7-E-1-F/SCT/24/G01,AV550G-A-A7-E-1-F/24/G01,AV550G-A-A7-E-1-F/SCT/G01
AV550G-B-A7-E-1-F,AV550G-B-A7-E-1-F/SCT,AV550G-B-A7-E-1-F/24,AV550G-B-A7-E-1-F/G01,AV550G-B-A7-E-1-F/SCT/24,AV550G-B-A7-E-1-F/SCT/24/G01,AV550G-B-A7-E-1-F/24/G01,AV550G-B-A7-E-1-F/SCT/G01
AV550G-A-A8-E-1-F,AV550G-A-A8-E-1-F/SCT,AV550G-A-A8-E-1-F/24,AV550G-A-A8-E-1-F/G01,AV550G-A-A8-E-1-F/SCT/24,AV550G-A-A8-E-1-F/SCT/24/G01,AV550G-A-A8-E-1-F/24/G01,AV550G-A-A8-E-1-F/SCT/G01
AV550G-B-A8-E-1-F,AV550G-B-A8-E-1-F/SCT,AV550G-B-A8-E-1-F/24,AV550G-B-A8-E-1-F/G01,AV550G-B-A8-E-1-F/SCT/24,AV550G-B-A8-E-1-F/SCT/24/G01,AV550G-B-A8-E-1-F/24/G01,AV550G-B-A8-E-1-F/SCT/G01
AV550G-A-A1-E-2-F,AV550G-A-A1-E-2-F/SCT,AV550G-A-A1-E-2-F/24,AV550G-A-A1-E-2-F/G01,AV550G-A-A1-E-2-F/SCT/24,AV550G-A-A1-E-2-F/SCT/24/G01,AV550G-A-A1-E-2-F/24/G01,AV550G-A-A1-E-2-F/SCT/G01
AV550G-B-A1-E-2-F,AV550G-B-A1-E-2-F/SCT,AV550G-B-A1-E-2-F/24,AV550G-B-A1-E-2-F/G01,AV550G-B-A1-E-2-F/SCT/24,AV550G-B-A1-E-2-F/SCT/24/G01,AV550G-B-A1-E-2-F/24/G01,AV550G-B-A1-E-2-F/SCT/G01
AV550G-A-A2-E-2-F,AV550G-A-A2-E-2-F/SCT,AV550G-A-A2-E-2-F/24,AV550G-A-A2-E-2-F/G01,AV550G-A-A2-E-2-F/SCT/24,AV550G-A-A2-E-2-F/SCT/24/G01,AV550G-A-A2-E-2-F/24/G01,AV550G-A-A2-E-2-F/SCT/G01
AV550G-B-A2-E-2-F,AV550G-B-A2-E-2-F/SCT,AV550G-B-A2-E-2-F/24,AV550G-B-A2-E-2-F/G01,AV550G-B-A2-E-2-F/SCT/24,AV550G-B-A2-E-2-F/SCT/24/G01,AV550G-B-A2-E-2-F/24/G01,AV550G-B-A2-E-2-F/SCT/G01
AV550G-A-A3-E-2-F,AV550G-A-A3-E-2-F/SCT,AV550G-A-A3-E-2-F/24,AV550G-A-A3-E-2-F/G01,AV550G-A-A3-E-2-F/SCT/24,AV550G-A-A3-E-2-F/SCT/24/G01,AV550G-A-A3-E-2-F/24/G01,AV550G-A-A3-E-2-F/SCT/G01
AV550G-B-A3-E-2-F,AV550G-B-A3-E-2-F/SCT,AV550G-B-A3-E-2-F/24,AV550G-B-A3-E-2-F/G01,AV550G-B-A3-E-2-F/SCT/24,AV550G-B-A3-E-2-F/SCT/24/G01,AV550G-B-A3-E-2-F/24/G01,AV550G-B-A3-E-2-F/SCT/G01
AV550G-A-A4-E-2-F,AV550G-A-A4-E-2-F/SCT,AV550G-A-A4-E-2-F/24,AV550G-A-A4-E-2-F/G01,AV550G-A-A4-E-2-F/SCT/24,AV550G-A-A4-E-2-F/SCT/24/G01,AV550G-A-A4-E-2-F/24/G01,AV550G-A-A4-E-2-F/SCT/G01
AV550G-B-A4-E-2-F,AV550G-B-A4-E-2-F/SCT,AV550G-B-A4-E-2-F/24,AV550G-B-A4-E-2-F/G01,AV550G-B-A4-E-2-F/SCT/24,AV550G-B-A4-E-2-F/SCT/24/G01,AV550G-B-A4-E-2-F/24/G01,AV550G-B-A4-E-2-F/SCT/G01
AV550G-A-A5-E-2-F,AV550G-A-A5-E-2-F/SCT,AV550G-A-A5-E-2-F/24,AV550G-A-A5-E-2-F/G01,AV550G-A-A5-E-2-F/SCT/24,AV550G-A-A5-E-2-F/SCT/24/G01,AV550G-A-A5-E-2-F/24/G01,AV550G-A-A5-E-2-F/SCT/G01
AV550G-B-A5-E-2-F,AV550G-B-A5-E-2-F/SCT,AV550G-B-A5-E-2-F/24,AV550G-B-A5-E-2-F/G01,AV550G-B-A5-E-2-F/SCT/24,AV550G-B-A5-E-2-F/SCT/24/G01,AV550G-B-A5-E-2-F/24/G01,AV550G-B-A5-E-2-F/SCT/G01
AV550G-A-A6-E-2-F,AV550G-A-A6-E-2-F/SCT,AV550G-A-A6-E-2-F/24,AV550G-A-A6-E-2-F/G01,AV550G-A-A6-E-2-F/SCT/24,AV550G-A-A6-E-2-F/SCT/24/G01,AV550G-A-A6-E-2-F/24/G01,AV550G-A-A6-E-2-F/SCT/G01
AV550G-B-A6-E-2-F,AV550G-B-A6-E-2-F/SCT,AV550G-B-A6-E-2-F/24,AV550G-B-A6-E-2-F/G01,AV550G-B-A6-E-2-F/SCT/24,AV550G-B-A6-E-2-F/SCT/24/G01,AV550G-B-A6-E-2-F/24/G01,AV550G-B-A6-E-2-F/SCT/G01
AV550G-A-A7-E-2-F,AV550G-A-A7-E-2-F/SCT,AV550G-A-A7-E-2-F/24,AV550G-A-A7-E-2-F/G01,AV550G-A-A7-E-2-F/SCT/24,AV550G-A-A7-E-2-F/SCT/24/G01,AV550G-A-A7-E-2-F/24/G01,AV550G-A-A7-E-2-F/SCT/G01
AV550G-B-A7-E-2-F,AV550G-B-A7-E-2-F/SCT,AV550G-B-A7-E-2-F/24,AV550G-B-A7-E-2-F/G01,AV550G-B-A7-E-2-F/SCT/24,AV550G-B-A7-E-2-F/SCT/24/G01,AV550G-B-A7-E-2-F/24/G01,AV550G-B-A7-E-2-F/SCT/G01
AV550G-A-A8-E-2-F,AV550G-A-A8-E-2-F/SCT,AV550G-A-A8-E-2-F/24,AV550G-A-A8-E-2-F/G01,AV550G-A-A8-E-2-F/SCT/24,AV550G-A-A8-E-2-F/SCT/24/G01,AV550G-A-A8-E-2-F/24/G01,AV550G-A-A8-E-2-F/SCT/G01
AV550G-B-A8-E-2-F,AV550G-B-A8-E-2-F/SCT,AV550G-B-A8-E-2-F/24,AV550G-B-A8-E-2-F/G01,AV550G-B-A8-E-2-F/SCT/24,AV550G-B-A8-E-2-F/SCT/24/G01,AV550G-B-A8-E-2-F/24/G01,AV550G-B-A8-E-2-F/SCT/G01
AV550G-A-A1-E-2-E,AV550G-A-A1-E-2-E/SCT,AV550G-A-A1-E-2-E/24,AV550G-A-A1-E-2-E/G01,AV550G-A-A1-E-2-E/SCT/24,AV550G-A-A1-E-2-E/SCT/24/G01,AV550G-A-A1-E-2-E/24/G01,AV550G-A-A1-E-2-E/SCT/G01
AV550G-B-A1-E-2-E,AV550G-B-A1-E-2-E/SCT,AV550G-B-A1-E-2-E/24,AV550G-B-A1-E-2-E/G01,AV550G-B-A1-E-2-E/SCT/24,AV550G-B-A1-E-2-E/SCT/24/G01,AV550G-B-A1-E-2-E/24/G01,AV550G-B-A1-E-2-E/SCT/G01
AV550G-A-A2-E-2-E,AV550G-A-A2-E-2-E/SCT,AV550G-A-A2-E-2-E/24,AV550G-A-A2-E-2-E/G01,AV550G-A-A2-E-2-E/SCT/24,AV550G-A-A2-E-2-E/SCT/24/G01,AV550G-A-A2-E-2-E/24/G01,AV550G-A-A2-E-2-E/SCT/G01
AV550G-B-A2-E-2-E,AV550G-B-A2-E-2-E/SCT,AV550G-B-A2-E-2-E/24,AV550G-B-A2-E-2-E/G01,AV550G-B-A2-E-2-E/SCT/24,AV550G-B-A2-E-2-E/SCT/24/G01,AV550G-B-A2-E-2-E/24/G01,AV550G-B-A2-E-2-E/SCT/G01
AV550G-A-A3-E-2-E,AV550G-A-A3-E-2-E/SCT,AV550G-A-A3-E-2-E/24,AV550G-A-A3-E-2-E/G01,AV550G-A-A3-E-2-E/SCT/24,AV550G-A-A3-E-2-E/SCT/24/G01,AV550G-A-A3-E-2-E/24/G01,AV550G-A-A3-E-2-E/SCT/G01
AV550G-B-A3-E-2-E,AV550G-B-A3-E-2-E/SCT,AV550G-B-A3-E-2-E/24,AV550G-B-A3-E-2-E/G01,AV550G-B-A3-E-2-E/SCT/24,AV550G-B-A3-E-2-E/SCT/24/G01,AV550G-B-A3-E-2-E/24/G01,AV550G-B-A3-E-2-E/SCT/G01
AV550G-A-A4-E-2-E,AV550G-A-A4-E-2-E/SCT,AV550G-A-A4-E-2-E/24,AV550G-A-A4-E-2-E/G01,AV550G-A-A4-E-2-E/SCT/24,AV550G-A-A4-E-2-E/SCT/24/G01,AV550G-A-A4-E-2-E/24/G01,AV550G-A-A4-E-2-E/SCT/G01
AV550G-B-A4-E-2-E,AV550G-B-A4-E-2-E/SCT,AV550G-B-A4-E-2-E/24,AV550G-B-A4-E-2-E/G01,AV550G-B-A4-E-2-E/SCT/24,AV550G-B-A4-E-2-E/SCT/24/G01,AV550G-B-A4-E-2-E/24/G01,AV550G-B-A4-E-2-E/SCT/G01
AV550G-A-A5-E-2-E,AV550G-A-A5-E-2-E/SCT,AV550G-A-A5-E-2-E/24,AV550G-A-A5-E-2-E/G01,AV550G-A-A5-E-2-E/SCT/24,AV550G-A-A5-E-2-E/SCT/24/G01,AV550G-A-A5-E-2-E/24/G01,AV550G-A-A5-E-2-E/SCT/G01
AV550G-B-A5-E-2-E,AV550G-B-A5-E-2-E/SCT,AV550G-B-A5-E-2-E/24,AV550G-B-A5-E-2-E/G01,AV550G-B-A5-E-2-E/SCT/24,AV550G-B-A5-E-2-E/SCT/24/G01,AV550G-B-A5-E-2-E/24/G01,AV550G-B-A5-E-2-E/SCT/G01
AV550G-A-A6-E-2-E,AV550G-A-A6-E-2-E/SCT,AV550G-A-A6-E-2-E/24,AV550G-A-A6-E-2-E/G01,AV550G-A-A6-E-2-E/SCT/24,AV550G-A-A6-E-2-E/SCT/24/G01,AV550G-A-A6-E-2-E/24/G01,AV550G-A-A6-E-2-E/SCT/G01
AV550G-B-A6-E-2-E,AV550G-B-A6-E-2-E/SCT,AV550G-B-A6-E-2-E/24,AV550G-B-A6-E-2-E/G01,AV550G-B-A6-E-2-E/SCT/24,AV550G-B-A6-E-2-E/SCT/24/G01,AV550G-B-A6-E-2-E/24/G01,AV550G-B-A6-E-2-E/SCT/G01
AV550G-A-A7-E-2-E,AV550G-A-A7-E-2-E/SCT,AV550G-A-A7-E-2-E/24,AV550G-A-A7-E-2-E/G01,AV550G-A-A7-E-2-E/SCT/24,AV550G-A-A7-E-2-E/SCT/24/G01,AV550G-A-A7-E-2-E/24/G01,AV550G-A-A7-E-2-E/SCT/G01
AV550G-B-A7-E-2-E,AV550G-B-A7-E-2-E/SCT,AV550G-B-A7-E-2-E/24,AV550G-B-A7-E-2-E/G01,AV550G-B-A7-E-2-E/SCT/24,AV550G-B-A7-E-2-E/SCT/24/G01,AV550G-B-A7-E-2-E/24/G01,AV550G-B-A7-E-2-E/SCT/G01
AV550G-A-A8-E-2-E,AV550G-A-A8-E-2-E/SCT,AV550G-A-A8-E-2-E/24,AV550G-A-A8-E-2-E/G01,AV550G-A-A8-E-2-E/SCT/24,AV550G-A-A8-E-2-E/SCT/24/G01,AV550G-A-A8-E-2-E/24/G01,AV550G-A-A8-E-2-E/SCT/G01
AV550G-B-A8-E-2-E,AV550G-B-A8-E-2-E/SCT,AV550G-B-A8-E-2-E/24,AV550G-B-A8-E-2-E/G01,AV550G-B-A8-E-2-E/SCT/24,AV550G-B-A8-E-2-E/SCT/24/G01,AV550G-B-A8-E-2-E/24/G01,AV550G-B-A8-E-2-E/SCT/G01