Weidmueller Terminals Screwing technology
Weidmueller Terminals Screwing technology
2015-06-29 15:05:17
Description:
Screwing technology Best contact stability thanks to patented clamping yoke system tried and tested in billions of applications. The clamping yoke system exploits the traditional force increase through the screw. The pitch of the screw thread combined with the clamping yoke means it takes little effort to generate a high contact force on the current bar.……
Description
SAK Series
Weidmüller's many years experience in the market have resulted in constant optimisation. No other modular terminal in the world is based onsuch comprehensive expertise as the SAK.The inconspicuous insulators with "clamping function" for electrical conductors are designed based on a wealth of sound knowledge and experience. This is necessary because every day modular terminals carry out the most diverse functions under adverse conditions. The connection systems are chosen to suit the respective applications.Advantages of all SAK terminals:Isolation of electrical and mechanical functions:– Steel clamping yoke for mechanical function– Copper current bar for electrical functionNo-maintenance, vibration-proof screw connectionLow voltage drop and gas-tight contact pointClamping point suitable for a wide range of cross-sectionsThree different locking feet available: for TS 32, TS 35 or a combination of the twoDifferent isolation materials: PA 6.6, KrG, KrSLarge selection of special terminals with various connection systemsLarge accessories programme available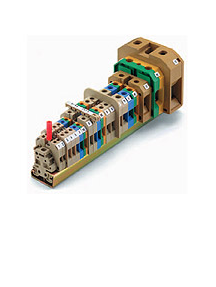 Tightening torque range
Tightening the clamping screws in this torque range guarantees:• Reliable and gas-tight clamping• No mechanical destruction of the clamping yokes• Voltage drop well below the required limit valueThe test torque according to IEC 60947-1 or the torque according to the manufacturer's specifications is the lower value of the torque range. With this, all tests are passed.The upper torque range value is the maximum torque that can be used by the operator.The electric screwdriver should preferably be set to the medium torque of the clamping torque range. The table values include generally applicable specifications. The product-specific data was assigned directly to the respective products.
Products with slotted head screwsThreadTightening torque rangeNE screwsCu 2 (CuZn)[Nm]Tightening torque rangeNE screwsCu 5 (CuNi 60)[Nm]Tightening torque rangeSteel screwsat least 8.8[Nm]Tightening torque rangeSteel screwsA 2/A 4-80[Nm]M 2......0.2...0.350.2...0.35M 2.50.4...0.45...0.4...0.80.4...0.8M 30.5...0.60.5...1.00.5...1.00.5...1.0M 3.5...0.8...1.60.8...1.60.8...1.6M 41.2...1.91.2...2.41.2...2.4...M 52.0...3.02.0...4.02.0...4.0...M 6...2.5...5.02.5...5.0...
Products with hexagon head screwsThreadTightening torque rangeSteel screws[Nm]M 41.2...2.4M 52.0...4.0M 63.0...6.0M 86.0...12M 1010...20M 1214...31M 1625...60
W-Series
When it comes to functional perfection down to the finest detail, the screw connection terminals in the W-Series set the standard a long time ago. The combination of benefits is unequalled and puts the W-Series in a leading position on the market. The W-Series offers solutions for conductor cross-sections between 0.05 and 300 mm² and for all standard electrical functions. The pluggable cross-connection (ZQV) is unique for most terminals with cross-sections of 2.5 and 4 mm². It brings considerable time savings compared to all other screw terminals on the market. Thanks to the patented design of Weidmüller's W-Series screw connection technology it is possible for two conductors with the same cross-section to be connected in one and the same clamping yoke without difficulty.DesignsW-standardSame contour design from 2.5 to 10 mm²Conductor sizes 0.05 to 300 mm²Large clamping rangeW-compactSmaller sizeIdentified by an "N" in the type designationConductor sizes 0.05 to 150 mm²The connectionIsolation of electrical and mechanical functions:Hardened steel clamping unit (tension clamp and clamping screw) for very high contact forceCopper busbar for low voltage drops.Tin-plated surface for minimum contact resistance.Cross-connections, also pluggableScrew-in or plug-in cross-connections as required.For screw terminals, the pluggable cross-connection (ZQV) is unique, with considerable time savings.Cross-connections with up to 10 poles available as standard for 2.5 and 4 mm².50-pole cross-connection ZQV for custom fabrication.Simple operationCan be clipped to or removed from the terminal rail in either directionIntegrated idle point when loosening the terminal screws – specially important for mechanical screwdrivers Recessed clamping screw position provides guide for screwdriver All parts captive within the terminal Numerous labelling options Wemid insulating materialNon-tracking, CTI 600Thermally stable up to 120 °CHigh UL 94 flammability class V0Contains no halogen or phosphorousCommon profilesIdentical size from 2.5 to 10 mm²Small number of different accessoriesEasy planningContact securityElastic tension clamp compensates for changes in the conductors caused by fluctuations in temperature (prevents them from coming loose).No maintenance: no need to retighten the clamping screwVibration-proof connection: many W-terminals certified for railway use to EN 61373Highest contact force of all connection systemsSafe operationElectric shock protection with connected conductors, even when cross-connectedTerminals are supplied with an open clamping point. In addition, the misplugging safeguard prevents conductors from being inserted incorrectly.Embossing on clamping yoke and current bar engage so that even the smallest conductors are reliably clamped; large conductors and also 2 conductors are gripped in the middleStandardsThe reliable contact and dependability of the Weidmüller systems are verified by:Type tests to IEC 60947-7-1/-2/-3National and international approvalsA large portfolio of UL and CSA approvalsW-Series certified for railway applicationsATEX approvalAll materials checked for conformity with the latest environmental directives and RoHS requirements.