Siemens SIMATIC S7-1200
Siemens SIMATIC S7-1200
2015-06-23 16:29:45
Description:
Automation solutions must be compact, scalable and flexible. S7-1200 CPUs are available as standard and failsafe versions. They are scalable in terms of their performance and are equipped with integrated IOs, inte-grated PROFINET interface for programming, HMI connections, distributed IOs and distri-buted drive architectures. The S7-1200 can be optimally adapted to your individual requirements by means of pluggable signal modules and communication modules.……
Description
Overview
Compact controllers for the low to mid-performance ranges

Large-scale integration, space-saving, powerful

With exceptional real-time performance and powerful communication options:

Controller with integrated PROFINET IO controller interface for communication between SIMATIC controllers, HMI, programming device or other automation components

All CPUs can be used in stand-alone mode, in networks and within distributed structures

Extremely simple installation, programming and operation

Integrated web server with standard and user-specific web pages

Data logging functionality for archiving of data at runtime from the user program

Powerful, integrated technology functions such as counting, measuring, closed-loop control, and motion control

Integrated digital and analog inputs/outputs

Flexible expansion facilities

Signal boards for direct use in a controller

Signal modules for expansion of controllers by input/output channels

Accessories, e.g. power supply, switch module or SIMATIC Memory Card
Catalog ST 70:
You can also find information about SIMATIC S7-200 in Catalog ST 70:
http://www.automation.siemens.com/salesmaterial-as/catalog/de/simatic_st70_chap03_german_2013.pdf
Application
The SIMATIC S7-1200 is the controller for open-loop and closed-loop control tasks in mechanical equipment manufacture and plant construction.
Due to the compact modular design with a high performance at the same time, the SIMATIC S7-1200 is suitable for a wide variety of automation applications. Its range of use extends from the replacement of relays and contactors up to complex automation tasks in networks and within distributed structures.
The S7-1200 also increasingly opens up areas for which special electronics was previously developed for economical reasons.
Application examples include, for example:
Placement systems

Conveyor systems

Elevators and escalators

Material transportation equipment

Metalworking machinery

Packaging machines

Printing machines

Textile machines

Mixing systems

Freshwater treatment plants

Wastewater treatment plants

External displays

Electricity distribution stations

Room temperature control

Heating/cooling system control

Energy management

Fire protection systems

Air conditioning

Lighting control

Pump control

Security/access control systems

Design
The SIMATIC S7-1200 family consists of the following modules:
Compact controllers with graded performances in different versions as wide-range AC or DC controllers.

Signal boards (analog and digital) for low-cost modular controller expansion directly on the CPU, with retention of the mounting space.

Different digital and analog signal modules.

Different communication modules and processors.

Ethernet switch with 4 ports for implementation of many different network topologies

SIWAREX weighing systems terminal module

PS 1207 stabilized power supply units, line voltage 115/230 V AC, rated voltage 24 V DC
Mechanical features
Rugged, compact plastic enclosure

Easily accessible connection and control elements, protected by front flaps

Removable connection terminals, also for analog or digital expansion modules
Device features
International standards:
SIMATIC S7-1200 complies with the standards according to VDE, UL, CSA and FM (Class I, Category 2; Danger zone groups A, B, C and D, T4A). The quality management system used during production is certified according to ISO 9001.
Communication
The SIMATIC S7-1200 is equipped with different communication mechanisms:
Integrated PROFINET IO controller interface

Communication module with PROFIBUS DP master interface

Communication module with PROFIBUS DP slave interface

GPRS module for connection to GSM/G mobile phone networks

LTE module for communication in mobile phone networks of the fourth LTE generation (Long Term Evolution).

Communication processor for connection to TeleControl Server Basic control center software control center software via Ethernet, and for safe communication via IP-based networks.

Communication processor for connection to control centers for telecontrol applications.

RF120C for connection to SIMATIC Ident systems.

Module SM1278 for connecting IO-Link sensors and actuators.

Point-to-point connection via communication modules.
PROFINET interface
The integral PROFINET interface permits communication with:
Programming device

HMI devices

Other SIMATIC controllers

PROFINET IO automation components
The following protocols are supported:
TCP/IP

ISO-on-TCP

S7 communication
The following can be connected:
Field PG programming device and PCs via standard CAT5 cable.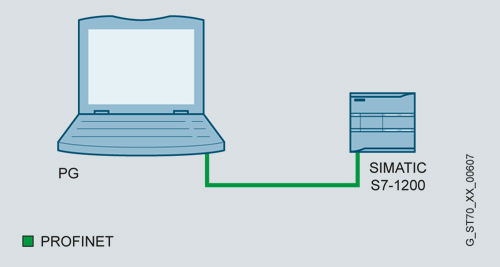 Connection between PG and CPU of SIMATIC S7-1200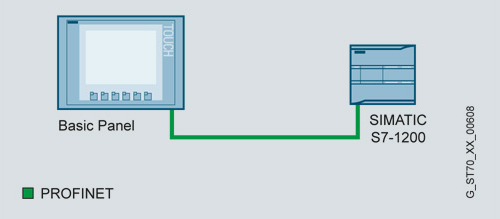 Connection between Basic Panel and CPU of SIMATIC S7-1200
Further SIMATIC S7-1200 controllers

Connection of several devices via CSM 1277 Ethernet switch
Point-to-point interface, freely-programmable interface mode
Communication modules permit communication via point-to-point connections. The RS232 and RS485 physical transmission media are used. Data transmission is carried out in the "Freeport" mode of the CPU. A user-specific, bit-oriented communication protocol is used (e.g. ASCII protocol, USS, or Modbus).
Any terminal equipment with a serial interface can be connected, e.g. drives, printers, bar code readers, modems, etc.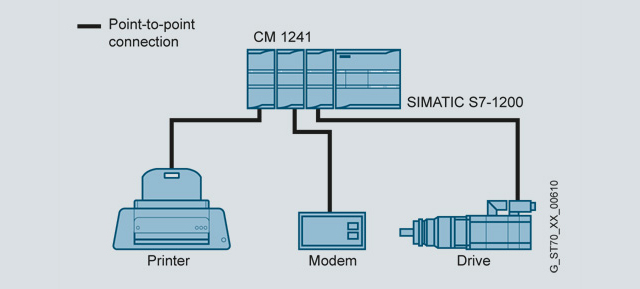 Point-to-point connection via CM 1241 in programmable interface mode

Function
The S7-1200 is characterized by:
Easy getting started:
Special starter packages including simulators and documentation facilitate familiarization.

Uncomplicated operation:
Powerful standard commands which are simple to use, together with the user-friendly programming software, reduce the programming overhead to a minimum.

Real-time properties:
Special interrupt functions, fast counters, and pulse outputs permit use even with time-critical processes.
The SIMATIC S7-1200 meets national and international standards:
UL 508

CSA C22.2 No. 142

FM Class I, Div 2, Groups A, B, C, D; T4A Class I, Zone 2, IIC, T4

VDE 0160

EN 61131-2

Requirements of the EMC directive in accordance with EN 50081-1, 50081-2 and 50082-2

Technical specifications
General technical specifications

Degree of protection

IP20 acc. to IEC 529

Ambient temperature






-20 ... +60 °C

-20 ... +50 °C

Transportation and storage

-40 ... +70 °C

25 ... 55 °C

Insulation




500 V AC test voltage

115/230 V AC circuits to ground

1500 V AC test voltage

115/230 V AC circuits to 115/230 V AC circuits

1500 V AC test voltage

230 V AC circuits to 5/24 V DC circuits

1500 V AC test voltage

115 V AC circuits to 5/24 V DC circuits

1500 V AC test voltage

Electromagnetic compatibility

Requirements of the EMC directive

Noise immunity acc. to
EN 50082-2

Test acc. to:
IEC 801-2, IEC 801-3, IEC 801-4, EN 50141, EN 50204, IEC 801-5, VDE 0160

Emitted interference acc. to EN 50081-1 and
EN 50081-2

Test according to
EN 55011, Class A,
Group 1

Mechanical strength




Vibrations, test acc. to / tested with

IEC 68, Part 2-6:
10 ... 57 Hz;
constant amplitude
0.3 mm;
58 ... 150 Hz;
constant acceleration 1 g (mounted on DIN rail) or
2 g (mounted in switchboard);
mode of vibration:
frequency sweeps with a sweep rate of 1 octave/minute;
duration of vibration:
10 frequency sweeps per axis in each direction of the three mutually perpendicular axes

Shocks, test acc. to / tested with

IEC 68, Part 2-27/half-sine:
magnitude of shock 15 g (peak value), duration 11 ms, 6 shocks in each of the three mutually perpendicular axes

More information
Brochures
Information material for downloading can be found in the Internet:
http://www.siemens.com/simatic/printmaterial