Testo 470 Tachometer kit 0563 0470 Testo 470
Testo 470 Tachometer kit 0563 0470 Testo 470
2019-08-12 17:09:02
Description:
testo 470 tachometer with SoftCase, reflective markers, adapter, probe tip, wheels 0.1 m and 6", batteries, transport case, and calibration protocol……
Description
Testo 470 Tachometer kit 0563 0470 Testo 470
Product Description of Testo 470 Tachometer kit 0563 0470 Testo 470
Do you need to measure the rpm of rotating objects or record the length and speed of conveyor belts and rotors? The testo 470 tachometer is a compact tool that makes it possible to carry out these measurements.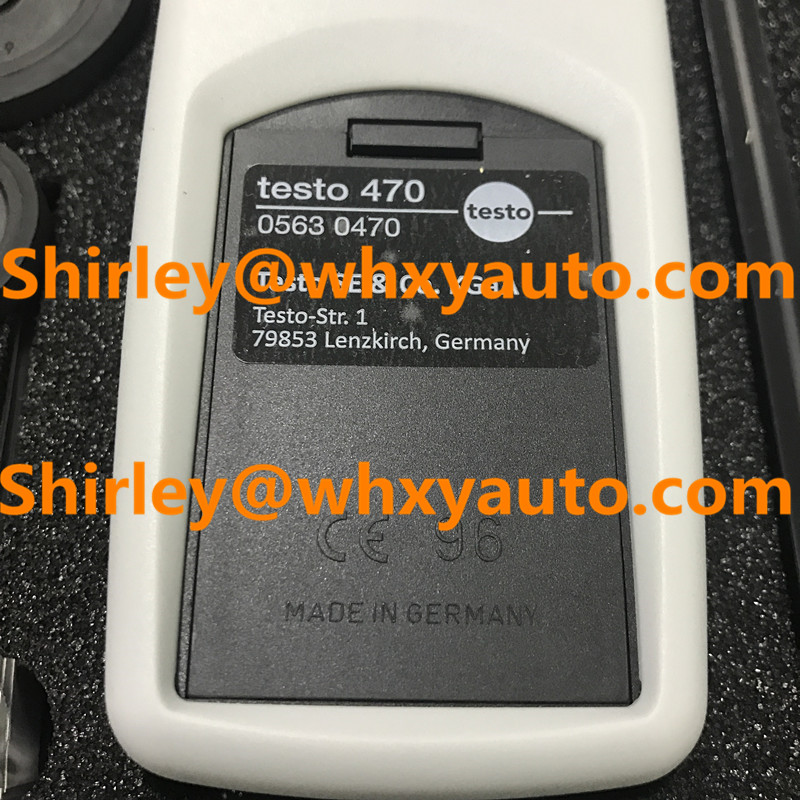 Multiple functions of Testo 470 Tachometer kit 0563 0470 Testo 470
In the case of optical rpm measurement, you can use the testo 470 tachometer to record how fast a rotating object rotates. Thus, for example, you can check whether motors, shafts, and fans are functioning correctly, in order to spot any impending defects due to overload at an early stage.
For rpm measurement, simply stick a reflective marker on the measurement object, and aim the visible red beam at the reflective marker. The measurement can then start (at a distance of up to 600 mm between the tachometer and measurement object). The tachometer is easy to operate using one hand.
The testo 470 tachometer not only provides the functions of an optical tachometer, it also functions as a mechanical tachometer. Attach the adapter for the probe tip and measure the rpm mechanically. Attach the wheel to also measure speeds and lengths of rotors or conveyor belts.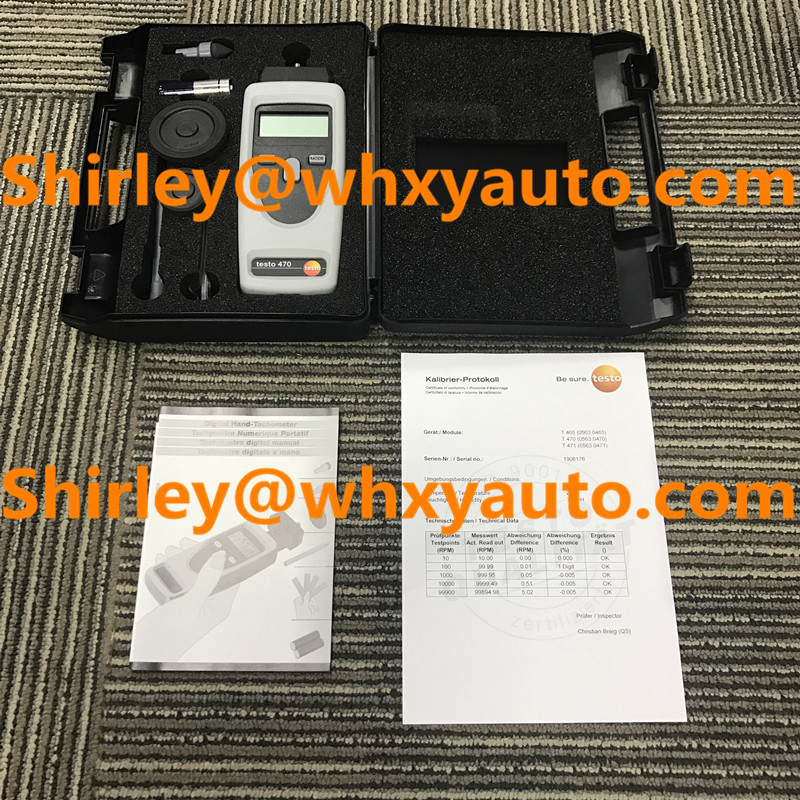 You get the testo 470 tachometer in a transport case with practical accessories (reflective markers, SoftCase, etc.).
Delivery Scope of Testo 470 Tachometer kit 0563 0470 Testo 470
testo 470 tachometer with SoftCase, reflective markers, adapter, probe tip, wheels 0.1 m and 6", batteries, transport case, and calibration protocol
Similar model codes of Testo 470 Tachometer kit 0563 0470 Testo 470 for your reference :
0560 4053 testo 405 - Pocket-sized thermal anemometer
0560 1405 testo 405i - Hot-wire anemometer wireless Smart Probe
0560 1410 testo 410i - Vane anemometer wireless Smart Probe
0560 4101 testo 410-1 - Vane anemometer
0560 4102 testo 410-2 - Vane anemometer with humidity measurement
0560 4160 testo 416 - Small vane anemometer
0560 4170 testo 417 - Rotating vane anemometer
0563 4200 testo 420 - Air flow capture hood
0560 4251 testo 425 - Hot wire anemometer
0560 4351 testo 435-1 - Multifunction meter
0563 4352 testo 435-2 - Multifunction meter w/ memory and software
0560 4353 testo 435-3 - Multifunction meter w/ integrated differential pressure
0563 4354 testo 435-4 - Multifunction meter w/ memory, software, and differential pressure
0560 4450 testo 445 - Service instrument for air conditioning / ventilation systems
0560 0460 testo 460 - Tachometer
0563 0465 testo 465 - Tachometer kit
0563 0470 testo 470 - Tachometer kit
0563 4760 testo 476 - Pocket StrobeTM handheld stroboscope
0563 4770 testo 477 - LED stroboscope
If you have any question, please do not hesitate to contact with me online
Contact details :
Shirley Sun
Sales Engineer
HONGKONG XIEYUAN TECH CO., LIMITED
Add : 7-A16, Caishen Commercial Plaza, Hankou Railway Station, Wuhan, China
M : +86-15172506760 (WhatsApp & Wechat) | T : +86-27-85309780 | F : +86-27-85309780
Email : Shirley@whxyauto.com Skype : 169649423@qq.com
Web : www.hkxytech.com