Endresss Hauser original Ultrasonic measurement Time-of-Flight Prosonic FMU90 with best price made in Germany FMU90-R11CA212AA3A
Endresss Hauser original Ultrasonic measurement Time-of-Flight Prosonic FMU90 with best price made in Germany FMU90-R11CA212AA3A
2019-06-20 11:19:19
Description:
Endresss Hauser original Ultrasonic measurement Time-of-Flight Prosonic FMU90 with best price made in Germany FMU90-R11CA212AA3A……
Description
FMU90-R11CA111AA3A Ultrasonic measurement Prosonic are in stock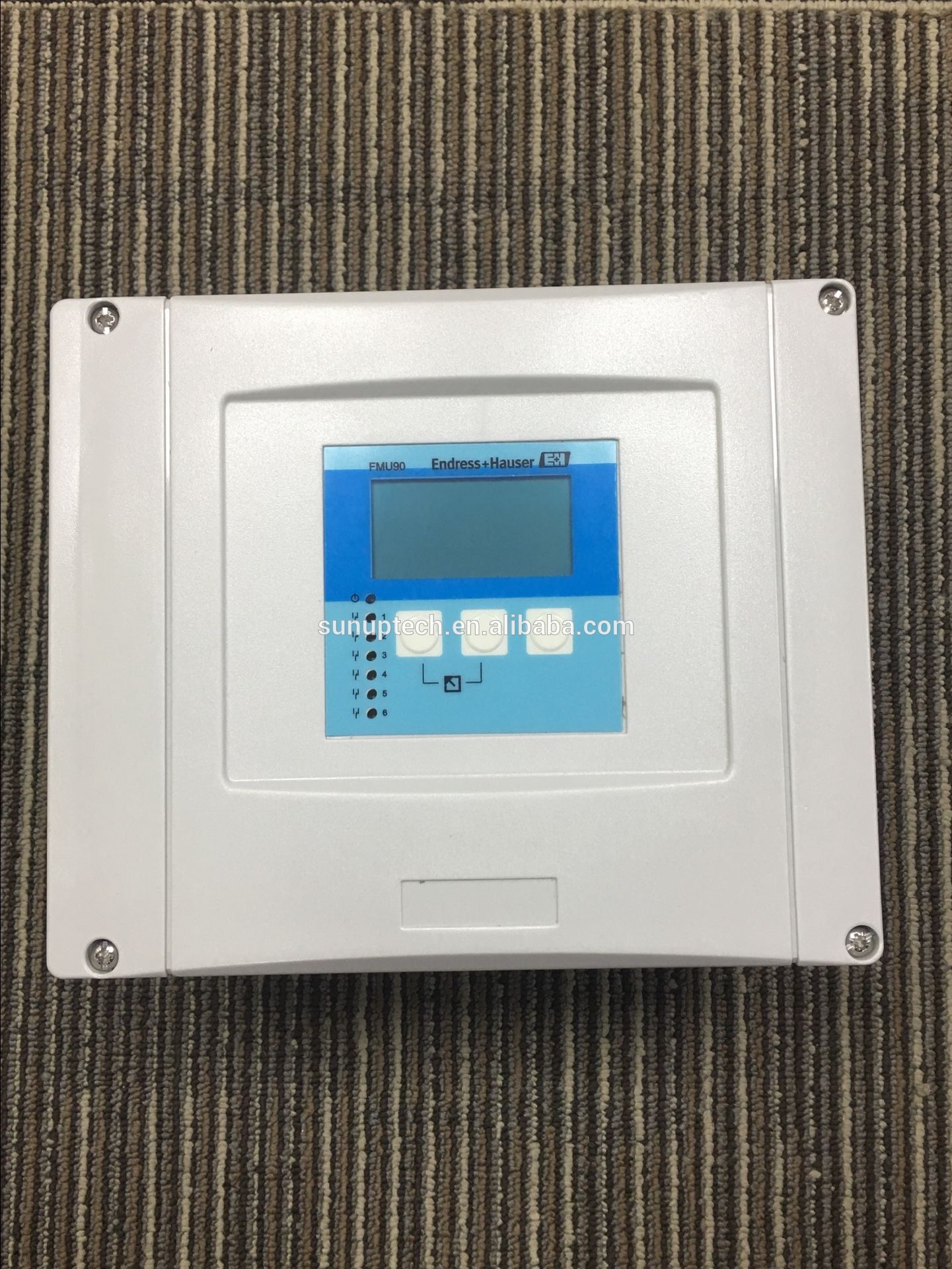 FMU90-R11CA111AA3A
010 Approval: R Non-hazardous area
020 Application: 1 Level + pump control, alternating
030 Housing, Material: 1 Field mounting PC, IP66 NEMA4x
040 Operation: C Illuminated display + keypad
050 Power Supply: A 90-253VAC
060 Level Input: 1 1x sensor FDU9x/8x
070 Switch Output: 1 1x relay, SPDT
080 Output: 1 1x 0/4-20mA HART
090 Additional Input: A W/o
100 Datalog Function: A Basic version
110 Language: 3 EN, ZH, JA, KO, TH, ID
120 Additional Option: A Basic version
Introduction
Prosonic FMU90 separated version with field housing or top hat rail housing for control cabinet instrumentation are suited for continuous, non-contact level measurement of fluids, pastes, sludge and powdery to coarse bulk solids. Also the flow measurement in open channels and weirs is possible as the simultaneous measurement of level and flow in a storm water overflow basin with only 1 sensor. Up to 6 relays for tendency alarm, flow pulse output or backwater/sludge alarm, 1 or 2 channel version.
Features
Simple, menu-guided operation with 6-line plain text display, 15 languages selectable

Envelope curves on the display for quick and simple diagnosis

Easy operation, diagnosis and measuring point documentation with the supplied "FieldCare" operating program

Time-of-Flight correction via integrated or external temperature sensors

Linearisation (up to 32 points, freely configurable) for the most common flumes and weirs
pre-programmed and selectable

Online calculation of the flume-/weir-flows via integrated flow curves

Automatic detection of the sensors FDU9x

Application:
Level measurement of fluids and bulk materials with 1 or 2 sensors for measuring of up to 45m (148ft) and level limit detection. Pump control, rake control and as option: additional pump control function.
Calculations: Average, difference, sum

Application flow: Flow measurement in open channels and weirs with 1 or 2 sensors

Flow measurement with back water or sludge detection

Up to 3 totalizers and 3 counters

Counting or time pulse output for control of external units
FMU90-R11CA111AA3A Ultrasonic measurement Prosonic are in stock
The other model code as below:
E+H COS61-A1F0
E+H PMP71-1BA1SB1RAAAU
E+H FMG60-A1A1A1A1A
E+H FMU90-R11CA212AA3A
E+H FMU90-R11CA131AA1A
E+H CLS13-B1K1A
E+H PMC51-AA22IA1HGJGWJJ,0-324mbar
E+H CA71SI-B10A3A2
E+H PMD75-AA178811AAA1
E+H PROMAG55S80-UCJB1AC0AEAH
E+H PMC51-AA22IA1PGJAFJA,0-3BAR
E+H 50104752
E+H FMU42-1MB2A42A
E+H FTI56-C1A2RGJ43G1
E+H FMR244-A2VGGSBA2A
E+H TR24-EF2DXKA0B0 L=400mm
E+H FMU90-R11CB111AA2A
E+H FMR250-AEE1XCJBA2K
E+H FTL50-AA82AA4G5AKE
E+H FDU90-RG2AA
E+H CPM153-A1A20A000
E+H COS41-2F
E+H 918098-1140
E+H TTR35-A1C111PH1BAA
E+H 50W2H-HL0A4AA0ABAA
E+H TR66-CEEED2XCHKA0+TZ2TZ8
E+H FMG60-A1A1A1A1A
E+H FTL50-KGR2AA2G5A
E+H FMG60-11B1Q1A1A
E+H CPS471D-7211
E+H CYK10-A101
FMU90-R11CA111AA3A Ultrasonic measurement Prosonic are in stock
Packaging & Shipping
Why choose us?
1. 100% original product, 100% quality assurance.
If you find a fake. Please contact us without hesitation! We afford the shipment cost! We send you a new product asking zero cent!
2. Varied payment methods.
We adopt T/T, western union and paypal. If you can not trust us , you can choose to pay it via Aliexpress! 100% make your money safe!
3. SHIPPING:
We can shipping all over the world.via DHL,UPS,Fedex,TNT and EMS etc., the packaging is very safe and strong. if you have any special needs,please notify me.
It will take 3 to 7days to reach in your hands.