Distributed Controller - the central processing units of ET 200
Distributed Controller - the central processing units of ET 200
2015-06-23 16:58:36
Description:
The ET 200 CPU Distributed Controllers combine compactness with flexibility. Distributed Controllers are the perfect solution for standard and fail-safe applications, particularly in the medium performance range for machines with distributed intelligence or series machines with little available space. Besides SIMATIC ET 200SP CPUs and the new SIMATIC ET 200SP Open Controller, the portfolio of Distributed Controllers also comprises tried-and-tested controllers for the SIMATIC ET 200S und ET 200pro system.……
Notice:
Description
Distributed Controller - System overview
Increased intelligence in machine-level applications
Thanks to their compact design, Distributed Controllers are particularly suitable for series machine manufacturing. They can be accommodated in small control boxes directly on the machine. In networked plants, connection to a production line's central control cabinet is realized via PROFINET.
The relocation of intelligence from the central control cabinet to Distributed Controllers on the individual stations entails positive effects on a plant's availability. Faults on one station can be rectified without leading to a standstill of the entire plant..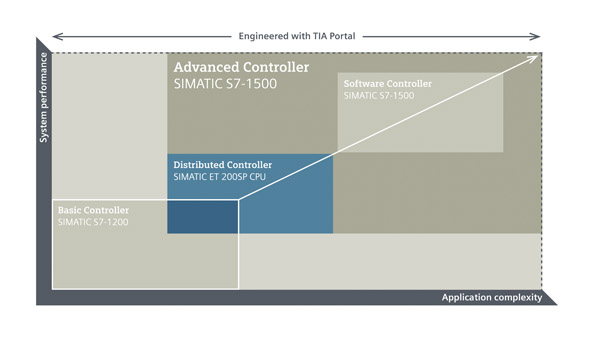 SIMATIC ET 200SP CPU

SIMATIC ET 200SP Open Controller

SIMATIC ET 200 S CPU

SIMATIC ET 200pro CPU